I've covered the last event of 2010 for the Richmond Sports Backers - the Suntrust Richmond Marathon. I have one more scheduled job for the year with the VCU School of Nursing in December, then it's time to go into hibernation I guess!
Not a chance! I have the Adobe CS5 Master Collection and Scott Kelby's "Lightroom 3 for Digital Photographers" + "Photoshop CS5 for Digital Photographers". Not to mention my user manuals for the Canon 50D & 7D to bone up on. It's amazing what these cameras are capable of (I usually just turn it to M, set the shutter speed and aperture, then go to work). So I'm going to be reading every day until the thaw brings out the runners again!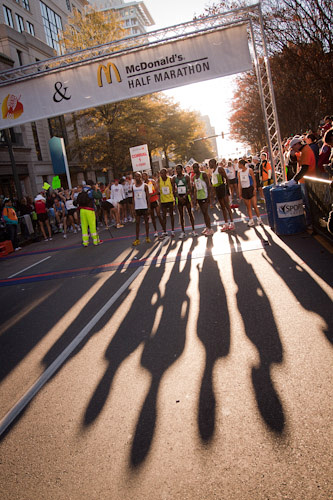 Actually, I've decided to hang up my sales photography gig for a season (at least). 2 reasons: I am turning 40 September 2011 and I wanted to run 40 races in the intervening 365 days. At date I've done 8. The other and more fiscally responsible reason - I don't make enough money at it. I use Photoreflect to sell photos (which is by far the best and most easily understandable software I've come across). The problem with them is they have no Mac version, and I want to give my PC laptop to my son. I am entirely Mac/iOS at this point - except Photoreflect.
Traveling 2+ hours round-trip to take 800 photos of runners/bikers/triathletes for 5 hours, then spend an entire day organizing them for easy online searches, then making roughly $150 is a colossal waste of time. I go out of my way to get unique images of participants (and by and large the response is VERY positive, so thank you to that 99%!!) and I really don't have time to deal with the one or two who want award-worthy photos for free.
Ending on a positive note - I had a ball at the Marathon and this was the first year I've photographed it when it was not raining. Fantastic Fall colors along Riverside Drive, and happy participants galore!