One of the most difficult things that I (or any sports photographer) have to deal with is the schedule of events. A couple of months ago I was shooting the Dominioin Riverrock for the Sports Backers. Over the 3 years since it's inception, Riverrock has gone from a day and a half of trail running, mountain biking, trick aerial biking, dog jumping, and music to all the aforementioned with the added kayak stunt jumping, paddle-boarding and kayak boatercross.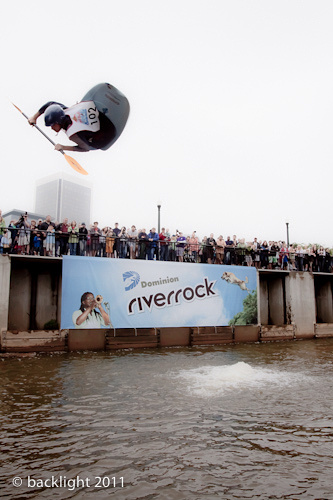 Initially, it began on Friday around 4pm. There was a 5K mud run, dog jumping and a couple of music acts. Big crowds. Saturday started at 8am for the James River Scramble 10K (an offshoot of the XTERRA event held in June). As the 10K wrapped up, the Urban Assault MTB race began, and bike 'rock-hopping', kayak races and more dog jumping started. So Saturday was a 12 hour run.
Thankfully (physically), Saturday has squashed a couple of events and thrown the rest into a maelstrom of concurrent athletics. Mentally, however, I have to decide which events (based on detalis like new, popular, and exciting) I had to cover.
Concerts are a dime a dozen unless there is a superstar performing (photographically, no aspersions on the performers), so that one is easy, but is last year's big event going to be as big as it was? Is the background different? Is someone famous competing? Will the crowds make it look cooler?
It's a chaotic job, but a fun one. Of course you'll have regrets - the coolest trick, finish or performance will have happened when you are waiting for something else to start on the other side of the venue. My advice? Celebrity status, novelty of the event and background (of the shot). And don't forget to drink water...